The Complete Linda Lovelace
YMain Y8MM YFilms YMagazines YPhoto Gallery YLinda Lovelace: Classic Interviews YLinks YNews and Appearances
<![if !vml]>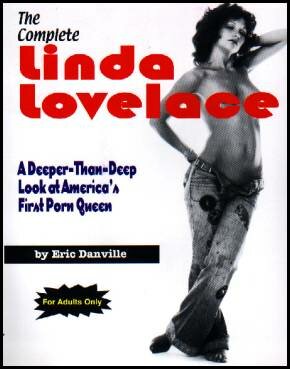 <![endif]>
<![if !supportEmptyParas]> <![endif]>Now Available!
<![if !supportEmptyParas]> <![endif]>
The Complete Linda Lovelace is a comprehensive, insightful and irreverent look at the Linda Lovelace story, beginning with a large, 69-entry bibliography looking at Lindas career in front of the camera and her life out of the limelight. Other chapters look at:
Y Lindas 8mm stag films, with never before published photos
Y Her film and video appearances, illustrated with rare stills and poster art
Y More than two dozen books, including Lindas four autobiographies
Y A collection of 18 songs, spanning styles from rock and roll to jazz to cabaret to C&W, written about Linda over the past 30 years
Y Lindas anti-porn activism, with complete transcripts of her testimony before the Minneapolis City Council and the Meese Commission
Finally, theres an exclusive interviewLindas first with a member of the adult press in more than 20 yearsin which she discusses sex, the media, fame, her views on censorship and pornography and lots, lots more!
Internet porn columnist Luke Ford calls The Complete Linda Lovelace
An important book on an important topic! Finally the Linda Lovelace book weve all been waiting for!
Penthouse Forum magazine says The Complete Linda Lovelace is
A fascinating, exhaustive and informative potpourri . . . Provides a multidimensional and for the most part objective look at Linda Lovelace, the phenomenon and the woman.
Adult Video News calls The Complete Linda Lovelace Exceptionally well researched . . . A must read . . . Highly recommended!
No less an authority than Psychotronic magazine calls The Complete Linda Lovelace Definitive! (issue #36)
YYYThe Complete Linda Lovelace is not available in stores!YYY
YYYYou can only buy The Complete Linda Lovelace through this Website! Kinda...YYY
NOTICE: You will have to order your book through snail mail. Please send a MONEY ORDER made out to ERIC DANVILLE (not Power Process Publishing) in the amount of $23.50 ($20 for the book and $3.50 for book-rate postage with delivery confirmation) to:
Power Process Publishing
168 Second Avenue
#333
New York, NY 10003
Please include a note to the effect that youre over eighteen (18) years of age, or well have to return your order. Please allow four to six weeks for delivery.
In case you didnt know: All copies of The Complete Linda Lovelace come personally autographed by the author. All dedications will be made to the first name of the person placing the order unless we are told otherwise.
IF YOU HAVE QUESTIONS ABOUT ORDERING MULTIPLE COPIES OF THE BOOK OR ANY OTHER MATTER, PLEASE DON'T HESITATE TO CONTACT US BY CLICKING HERE.
Due to OVERWHELMING INTERNATIONAL DEMAND, foreign delivery orders now accepted!
CLICK HERE for international postage information