Contact the Author
If you have a question about Linda Lovelace or Eric Danvilles book The Complete Linda Lovelace, click here.
---
News and Upcoming Appearances
The Complete Linda Lovelace Links List
Here we have the latest stage in the ongoing Complete Linda Lovelace project: The Complete Linda Lovelace Links List. Think of it as Googling Linda Lovelace with all the bullshit cut out. Think of it as our way of saying thanks for all the great support youve given The Complete Linda Lovelace, Eric Danville and Power Process Publishing so far. Think of it as someone with a bit too much time on his hands and you dont even scrape the surface of how mind-boggling this fucking thing will be.
Linda Lovelace Wallpaper
As a small way of saying thanks to everyone who have supported The Complete Linda Lovelace and Power Process Publishing, weve also put up the first in a series of tokens of affection. Click on the links below to download a Linda Lovelace wallpaper in the appropriate resolution!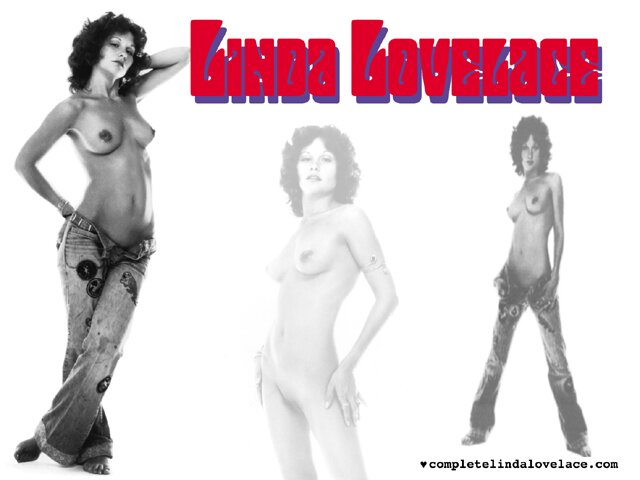 To Install:
Windows
Once you click your desktop size, right-click on the image and select the option to save as desktop (or wallpaper). To remove the image, right-click on your desktop and select the backgrounds tab in your display control panel.
Macintosh
If you have a Macintosh, you need to be running system 8.0 or higher or have a third party program such as Decor to use background images. To save the image, click on the desktop size you have, then click and hold the mouse button on the image until your browser asks you where you would like to save the image. Use your Desktop Pictures control panel (OS8) or Decor to make the picture your desktop background.
Old News and Past Appearances
Meg Ryan to play Linda Lovelace in biopic?
Not quite. A few months ago we got a phone call because the gossip sheets were ablaze, for a whole day, with their latest hot rumor: That Meg Sleepless in Seattle Ryan was being wooed to play Linda Lovelace by producer Brian Grazer in a proposed film. Heres the deal. The October 2000 issue of Entertainment Weekly, in their News From Hollywood column Reel World, ran a piece called Casting About, which read:
Meg Ryan may sign on to Miramaxs Kate and Leopold, a time-travel romance about the relationship between an 18th-century nobleman and the female scientist who brings him into the future. James Mangold (Girl, Interrupted) will direct.
The next item read:
Weird as it sounds, Ryan could be just the kind of girl that producer Brian Grazer wants for his biopic of Linda Lovelace, the Deep Throat porn star. I havent found the right casting, Grazer says. I want to trash up a really wholesome girl.
The embarrassing mix-up was both played out and straightened out in the press later that monthwe mean, Meg Ryan and Linda Lovelace, did you ever?with Grazer even joking, I'm surprised she isnt suing, to columnist Jeanette Walls. We had to laugh with him too (knowingly, of course) about what a righteous bit of litigation that would inspire, until someone told us that he was actually talking about Ryan . . .
Of course you and I, being non-brain-dead, read those first two blurbs and understood that in their own special sort of way, Entertainment Weekly was calling Meg Ryan a really wholesome girl, so wholesome in fact that Brian Grazer could cast against type to portray Linda Lovelace. But not everyone understood that. Thanks to its rather awkward intro, the piece popped up in Meg Ryan chat rooms and message boards all up and down the great Information Superhighway, where it was turned into a sort of cyber-urban-legend thats still going around. Of course, the fact that Ryans picture was placed right next to Lovelace only added to the confusion about her playing the role. Then again, a picture of Tom Cruise was next to the pictures of both Ryan and Lovelace, and no one wondered if maybe . . . well, you can write your own joke about that one.
Angelina Jolie to play Linda Lovelace in biopic?
Not quite. While the idea of the lush-lipped Academy Award winner playing Americas first porn Queen is an intriguing one, to say the least, it doesnt look like its in the stars. Apparently the story, which originated on a film-industry insider website, was rebuked within a few days, with sources citing the fact that not only was there no director or film company involved with the project, Lindas estate had not yet given film rights to anyone.
---
The Complete Linda Lovelace Book Release Party
On April 25, 2001, Linda Lovelace joined author Eric Danville at the book release party for The Complete Linda Lovelace. They welcomed a crowd of almost 200 people to sign books, hang out and just generally have a great time. Wanna see what you missed? Click here. And here. And here. (Photos courtesy of Joe Flocco)
Lovebytes with Bob Berkowitz
Unfortunately, eyada.com has stopped broadcasting, but if you
click here
, you can see Luke Fords very convenient (although not complete) transcription of Linda and Erics appearance on the show. (Anyone who taped the show or has a digital copy is asked to please
contact the author
.) (original airdate May 2, 2001)
Eric Danville on Luke Ford
Not literally, theyre really just good friends! But
click here
for Luke Fords profile of Eric Danville and wife Editirix Abby Ehmann, as well as a partial transcript of Luke and Jim DiGiorgios irreverent interview with Danville during their
Linda Lovelace Special
! (original airdate May 8, 2001)
The StunningCurves.com Interview: Eric Danville
Follow this link to Eric Danvilles archived interview on StunningCurves.com with host Kevin Moore (original airdate May 8, 2002). Be sure to punch Lovelace into the search field at the top of the page.
The As It Happens Interview: Eric Danville
To hear an interview with Eric Danville recorded shortly after Linda Boremans death, click here. (original airdate April 23, 2002)
The Penthouse.com Interview: Linda Lovelace and Eric Danville
To read an excerpt from The Complete Linda Lovelace and watch an exclusive video interview with Linda Lovelace and Eric Danville (shot at the April 25 book party) now playing on Penthouse.com, click here!
---
Mentions for The Complete Linda Lovelace
The Complete Linda Lovelace has gotten some pretty good press in the past year:
We got a nice little plug in Adult Video News magazine when they named Linda one of the Top 50 porn stars of all time. To tell you the truth, we were more than a little surprised that Linda made the cut to begin with, her being all anti-porn at all, but AVN came through and gave her a quite respectable listing. Click here to take a look at it!
The Complete Linda Lovelace and author Eric Danville received a nice little mention in none other than The New York Times, when the Old Grey Lady published Matthew Flamms profile of people who write porn in New York City. A Demimonde in Twilight appeared in the City section on June 2, 2002, and was reprinted in the equally wonderful International Herald Tribune.
We were also way pleased to be included in the article Is Rock Criticism Dead?: Richard Meltzer, Noise Boy by Alec Hanley Bemis that appeared in the LA Weekly (June 14-20, 2002). Our mention was brief but beautiful:
To repeat, Richard Meltzer lives in Portland. Were in his little yellow house. There are Tucks Medicated Pads in the bathroom, mauve louvered blinds in the windows and roses printed on the wallpaper. On a table next to the living room couch, an ASCAP-Deems Taylor Award he won for A Whore Just Like the Rest sits atop two books--William Burroughs Word Virus and Eric Danvilles The Complete Linda Lovelace.
Mentioned in an article about esteemed rock crit (and direct predecessor for our music column at Screw magazine) Richard Meltzer? In the same graph with William Burroughs and Tucks Medicated Pads? As a means for Meltzer to better prop up his own writing award? MAUVE LOUVERED BLINDS? What can we say? We have arrived!
To read the entire article, click here.
---
Coming Soon from Eric Danville and Power Process Publishing
The Complete Patty Hearst
Coming soon : The Complete Patty Hearst, which promises to be everything that The Complete Linda Lovelace is, except its gonna be about Patty Hearst. The Complete Patty Hearst will look at the story of Hearsts abduction as it was reported in newspapers and magazines from The New York Times to Crawdaddy to National Lampoon. You thrill to a wrap-up of the saga of the Symbionese Liberation Army, whose members are now cooling their heels as federally subsidized guests of the state!. Youll shake your head in wonder at just what could drive one human being to compile a book chronicling almost three dozen songs about Hearst; two dozen films and television shows by and starring the John Waters starlet; long-lost trial testimony; and much, much more. If youve bought (and loved) The Complete Linda Lovelace, you know what youre in for. If you havent (and what the fuck is that about?), you dont know what youre missing. In any event, run, duck and cover, because when this one hits, its gonna be BIG!
For more information about
The Complete Patty Hearst
,
click here
.